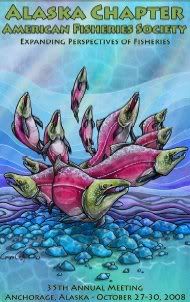 Expanding Perspectives of Fisheries


People came from all across Alaska to attend the Alaska Chapter of the American Fisheries Society's Annual Conference titled: Expanding Perspectives of Fisheries. Students brought projects to share, professionals spoke about current work, and many different issues, regions, and species were presented.
Before the conference, 4 continuing education courses were offered: DIDSON-Based Fish Assessment Workshop, Improving your Scientific Presentation and Speaking Skills, Wilderness First Aid, and a Technical Writing Workshop.
A few of our Fairbanks members, along with other students from Juneau and Anchorage, gathered items for a silent auction. Every year the students are responsible for collecting items and the profits go to the student travel fund. Thanks to everyone who participated!
The last evening of the conference a banquet was held with live entertainment and food. The auction and several award distributions occurred that evening. Recognition was given for: best poster, best presentation, service award, and a Molly Ahlgren student scholarship.
Below is a banquet snapshot from Dona. Seth W. is on the left, Dayna is in the middle, and Shelley W. is on the right.
Big thanks to the people who worked hard to make this conference a success.
Next year the annual conference will be in Fairbanks!