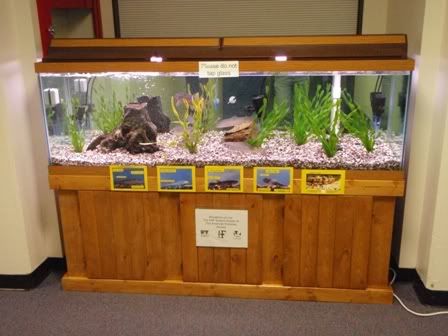 AFS Freshwater fish tank on the 2nd floor of the O'Neill Building at UAF
The tank pictured above was donated by the Bureau of Land Management office in Fairbanks. There are five native species residing in this tank: Slimy sculpin (1), Alaska Blackfish (2), Arctic Grayling (2), Round Whitefish (2), and Longnose Sucker (1).
One main objective of the AFS officers for the 2008-09 year is to get more inolvement from students, and to make the AFS name known on campus. This fish tank provides us with an opportunity for community outreach. The School of Fisheries and Ocean Sciences will also use this tank as a tool for attracting prospective/current student attention.
If you get a chance, stop by and see our fish! They are very lively and love attention.